Our Veterinarians
Ridge Animal Hospital welcomed Dr. Chelsie Novitske to the practice in July 2018.
With each new addition to the team, our capability to serve our patients and clients increases. Welcoming new talent to the practice gives our staff variety and enables us to help our varied clientele in increasingly beneficial ways.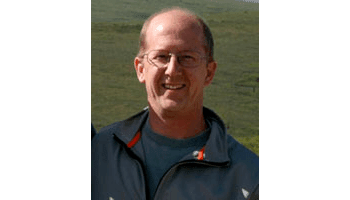 Dr. Mark A. French
Dr. Mark French joined Ridge Animal Hospital following graduation from Auburn University in 1985. Dr. French was raised in rural Mt. Washington, Kentucky along with his eight sisters. He attended Elizabethtown Community College for 2 years and then almost completed his Bachelors in Animal Science from the University of Kentucky the following year before gaining acceptance to Auburn. He married Laura during his senior year at Auburn. Shortly after joining Dr. Gates at Ridge, Gates and French formed a partnership that continued until Dr. Gates transferred his portion of ownership to National Veterinary Associates in July, 2013. Laura and Dr. French have three grown children and have raised a number of fish, hamsters, gerbils, guinea pigs, hedge hogs, dogs and cats over the years. When he has spare time, Dr. French enjoys woodworking, yard work, bicycling, hiking and church work at St. Theresa Catholic Church. His special veterinary interests include client relations, mentoring young people who are interested in the veterinary profession, and surgery.
Dr. Andrea Kellum
Dr. Andrea Kellum graduated from Virginia—Maryland Regional College of Veterinary Medicine (go Hokies!) in 2006 and became certified in acupuncture in 2011. She moved from Culpeper, Virginia, to Farmville in early 2016 to join the Ridge Animal Hospital team. Dr. Kellum loves the diversity that veterinary practice offers and is interested in many areas of veterinary medicine including preventative care, behavior, and senior care, as well as pain management and acupuncture.
 In her free time, Dr. Kellum enjoys trail riding, camping, and live music. Her current family includes two horses, Fire and Boomer, and three dogs, Willie, Waylon, and Captain.
Dr. Jessica Shepherd
Dr. Jessica Shepherd joined the Ridge Animal Hospital team in November 2015. She is originally from the New Orleans area of Louisiana, and she moved to Virginia in 2015. Dr. Shepherd received her Bachelors in Animal Science degree from Louisiana State University then graduated from LSU School of Veterinary Medicine in 2015. In addition to general and preventative medicine, she has a special interest in feline medicine. In her free time, she enjoys reading, hiking, and watching football (especially the New Orleans Saints). Dr. Shepherd has two dogs, Eve and Bouree, and three cats, Norman, Q-Tip, and Chaton.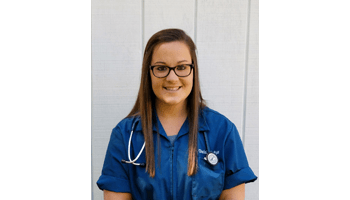 Dr. Chelsie Novitske
Dr. Chelsie Church Novitske joined Ridge Animal Hospital in July 2018 following graduation from the Virginia-Maryland Regional College of Veterinary Medicine. Raised in Charlotte County, Dr. Novitske graduated from Randolph-Henry High School, earned her Bachelor of Science in Animal & Poultry Sciences from Virginia Tech, and completed a Master's of Physiology from North Carolina State University. Growing up she had a variety of pets. Dr. Novitske loves cats, bunnies, and all breeds of dogs (but especially the large ones). In her spare time she enjoys reading, spending time on the beach, and playing disc golf. In addition to preventative medicine, her special veterinary interests include dermatology, internal medicine, and surgery. Dr. Novitske and her husband, Dylan, recently adopted Gus the mastiff. Gus takes up a lot of space in Dr. Novitske's heart and in her house.